3-7 July 2022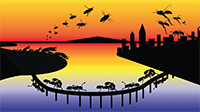 XIX IUSSI International Congress
Marriott Marquis, San Diego, California, USA
For more information about the congress, please see: http://burkclients.com//IUSSI/meetings/2022/site
Although the in-person meeting is over, you can continue to experience IUSSI 2022 through IUSSI+, our on-demand conference archive, which will remain active through September. Please go to the Pathable site, where you will find most of the conference presentations available for viewing. This includes all the plenary addresses, over 80% of the posters, and over 70% of the talks. Not all presentations are available, either because the presenters did not upload them or because technical difficulties were encountered during the live sessions.
12 December 2022
North-west European Section Winter Meeting
Natural History Museum, London
The NW EU IUSSI Section invites you to attend our upcoming Winter Meeting on the 12th December 2022 in London.
Dr Paul Eggleton has once again kindly agreed to host the meeting at the Natural History Museum, London. This meeting will be a one-day, hybrid event. We will have the usual selection of excellent talks and posters, as well as a limited number of slots for remote presentations.
For more details, see the North-west European Section's meetings page